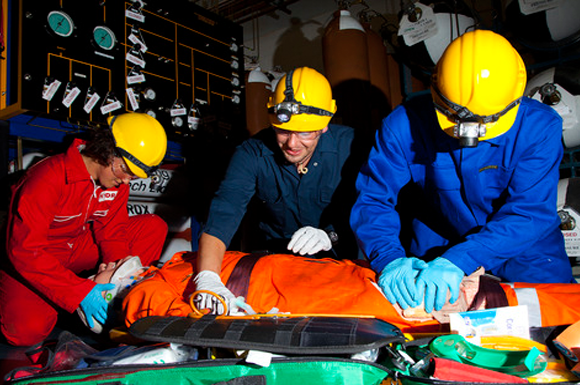 Offshore First Aid
£395.00
HSE- FA4
Offshore First Aid (HSE)
The course is approved by the HSE and complies with the Offshore Installations and Pipeline Works (First Aid) regulations 1989. Delegates are trained to be able to administer First aid and provide assistance to the offshore medic if necessary.
Prerequisite training
None.
The syllabus focuses on:
Aims and principles of First Aid
The ability to communicate effectively during and emergency
Management of the unconscious casualty
Basic life Support (CPR) including the use of defibrillators, manual resuscitators, manual suction devices, oropharyngeal airways and oxygen supplies
Manage a choking casualty
Manage a casualty that is suffering from Shock, Bleeding, Burns or fractures
Use of Entonox
Treatment of inhalation of hot gases or smoke
Medical Evacuation by helicopter
Treatment of Hypothermia
Recognise and treat minor illness
Recognise and treat the effects of poisons
Recognise and treat eye injuries and head injuries
Recommended refresher training
Holder should undertake further training in-line with HSE Guidelines and with material given free of charge from this course.
Course fees include:
HSE certification
Course certification in frame and plastic card